LED light-emitting textile fabrics come 360 degrees also waterproof
According to Taiwan media reports, the Creation Award Presentation invention Intellectual Property Office-cum-exhibition organized on the 26th, and a combination of LED lamps and textiles "linear emitters textiles," won the prize cards invention. Shen Long said developer dry, with light-emitting properties of textiles can be made hats, backpacks or clothing, take walks at night can enhance people's safety.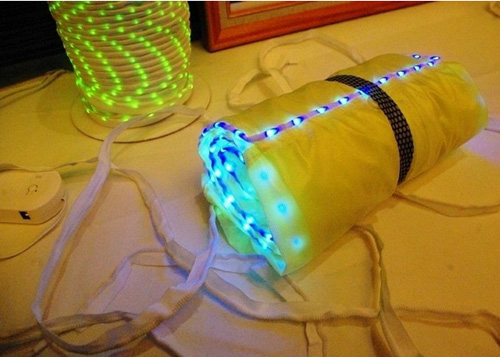 "This LED light textiles to enhance the safety of pedestrians walking at night designed." Shen Qianlong developers noted that although other areas of the LED lights embedded in long clothing ideas, but this is the world's first light-emitting textiles to "Textile "angle cut, after combining the advantages of advanced LED industry, developed out of the avant-garde products. And whether it is at night walking, jogging, or police service is very suitable to perform the command.
This can be used for weaving, sewing and embroidery, textiles, and its soft, waterproof and 360 degree luminescence and other features, will be widely used in safety alerts, and medical care. Dry Shen Long said, there are 1600 manufacturers to use, and in its order, "one hundred meters" for the production units, the monthly output of up to 300 km, significantly increasing the added value of the traditional textile industry. Shen Long said dry, manufacturers can charge for the needs of design, filling different battery power supply, when full power, endurance up to 8 hours.
Shen Qianlong also said that this textile material can be widely used in the hats, backpacks and jackets, compared to the traditional reflective vests, armbands, the textile and light weight, forming one of the features, but also to the wearer's body does not have to more than the weight of the burden. And now includes Europe, Singapore and Australia have introduced various countries, and to make practical use of the military police chain of command.