WAVE 2015: Osram Takes Part in the Largest Electric Vehicle Rally in the World
Osram was not only acting as an industry partner at the fifth tour of the largest electric vehicle rally in the world, the WAVE (World Advanced Vehicle Expedition), but also mingling amongst the competitors with a car fitted with OSRAM products. WAVE 2015 took place from 12 to 21 June, with a route over several locations from Plauen in Germany to St. Gallen in Switzerland.
"With OSRAM we were able to gain a really strong partner for our rally that not only talks about sustainability but puts it into practice with its highly energy-efficient products. We are already looking forward to the joint start on 12 June in Plauen", said Louis Palmer, initiator of the WAVE before the start of the rally.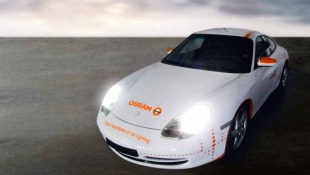 With an electrically powered Porsche 911, OSRAM was representing its automotive product highlights at the WAVE 2015. (Osram/LEDinside)
WAVE is the largest electric vehicle rally in the world and is bringing together electric vehicle enthusiasts from all over the world for what is now the fifth time under the slogan "Let's move the world". One hundred international participating teams have made their way to the starting line on 12 June 2015 – including teams from Germany, Austria, France, the Netherlands and Switzerland – with their purely electrically powered cars, motorcycles and bicycles in Plauen. Over the course of eight days, the route has passed through Dresden, Berlin, Karlsruhe, Bern and St. Moritz all the way to St. Gallen.
E-Porsche presenting product highlights from OSRAM
On the route an electrically powered Porsche 911 was representing various durable products from Osram´s automotive lighting portfolio. Here, the interested participants could see our latest products and innovations from the field of automotive lighting.
With electromobility and sustainable light sources to combat CO2 emissions
Electric vehicles and energy-efficient lighting products represent the optimum combination – both reduce CO2 emissions and offer great potential for innovation. In its capacity as the leading company in the lighting industry, OSRAM attaches special importance to developing innovative and sustainable products and systems, as artificial light is currently responsible for about 15% of global energy consumption and thus for a considerable share of CO2 emissions. "With energy-saving lamps such as our OSRAM LEDriving products for the car, this share can be significantly reduced", according to Fabian Triebel, Head of Sales DACHS at OSRAM. "WAVE is also backing reduction of CO2 emissions. This is why we are happy to be supporting this forward-thinking event as an industry partner."