The number of United States nearly two years to buy LED lights multiply
Two-thirds of the American people have to buy household LED lighting products, with the first two years than the number almost doubled.
LED adoption rate rise is evident, not only because of prices, more consumer perception is changing thanks. According to the seventh annual survey of North American OSRAM showed that more and more people began to know "LED" of the term.
Consumers to buy solid-state lighting (SSL) products primarily for general lighting family. Their transition from incandescent lighting options and compact fluorescent lamps (CFL) to LED lamps, mainly due to the diversity of color, low power consumption and Energy Star certification attraction.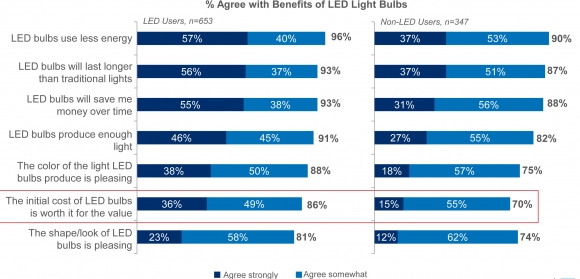 People acceptance of LED lighting advantage
Survey, LED replacement tide is rapidly performed, but should not be overlooked is that, CFL still occupy most of the market share - in the past 12 months, it is still the largest purchases CFL. However, the next year, this situation may change.
More than half of respondents said they purchased the CFL in the past year, but only 41% of people buy LED lights. The survey was conducted in February, when the major brands have not yet launched cheaper than CFL LED bulbs.
But price is not the factor most concern to consumers. Most consumers pay more attention to the brightness and life, and in these areas, LED light far better than the CFL. Those people have not yet purchased LED lights There seems to be a misunderstanding of the LED technology, quality and features.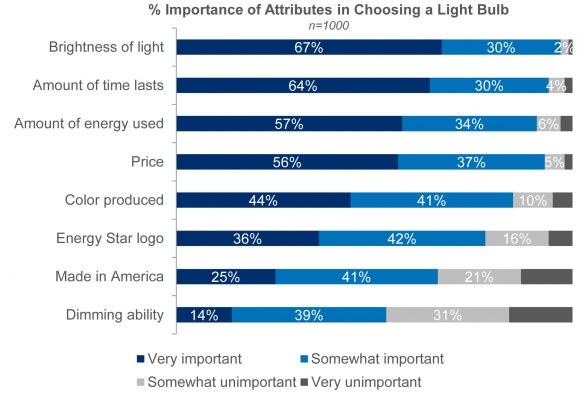 When choosing fixtures, people emphasis on each property
The survey noted that the store's products and their show was the most important source of consumer information learned. This means that buyers not only need to be accompanied beautifully packaged products, but also need attractive price information, such as instant utility discounts or daily specials. Only 18% of respondents said they would go to the power sector understand bulb purchase information.
Survey data show that LED lamps purchased consumers are likely to still choose Save LED products, and consumers who want to build a smart home is also more likely to buy LED, rather than the CFL.
In addition, the intelligent lighting, consumers are most concerned about the price. About two-thirds of consumers said that price is the most important factor in deciding whether to buy a smart bulb. As smart bulb prices have started to decline, function and lighting performance may soon become a more important purchase driver.